Korean movies are receiving attention these days. It is obvious to notice the difference from the viewpoints toward Korean movies by recent Korean actors' entrances into Hollywood movies and higher international status of Korean movie directors than before. Recently, Korean movies are distinguishing themselves in another area, the area of Computer Graphic inside the movies.
The Centre of Asian Movies, Now Dreaming of the Best in Technology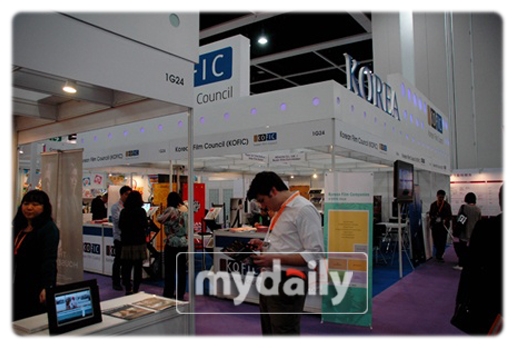 <
"Korean Movie Centre" booth run by the Korean Film Commission at Hong Kong Film Market> (Photo: mydaily)
Korean movies are not only acknowledged in Asia, but also at the World Film Festival. Korean movie industries are showing an advanced Korean CG technology off to the world by using CG not only in Korean movies, but also in Chinese films, successfully.
Ministry of culture and Korea Creative Content Agency supported the business meeting among Korean CG enterprises and Chinese movie-makers by participating in 'Hong Kong Film Market 2011', which took place for four days starting from March 21. 'Hong Kong Film Market' is the representative Asian contents market, which prospered with a participation of 548 enterprises, and about 4950 people in 2010. At this year's Hong Kong Film Market, seven corporations took part in this event from a variety of areas in movie industries from animation production enterprises to the leading VFX (Visual Effects) company in the country.
Chinese movie industry is growing rapidly with a solid base of capital and manpower enough to make approximately 500 movies in 2010. By the number of film productions, the number China has is the third biggest scale after America and India. Due to a lot of recent contracts with Korean domestic enterprises and elements of CG production in historical dramas, action movies and etc, Chinese movie industry came into the spotlight as a new promising market.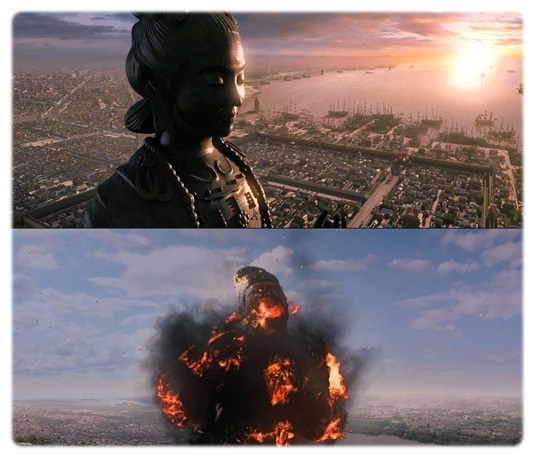 <A Scene in Chinese movie 'Detective Dee' made by Koran CG technology> (Photo: Maxnews)
Korea has taken charge of CG production of 'Detective Dee' and 'The Flying Swords of Dragon Gate Originally' by director Seo Geuk including 'A Chinese Ghost Story' and etc. Especially, the movie 'Detective Dee' attracted attention due to the combination of director Seo Geuk and Korean CG technology and it got an eval!uation that it pictured the Tang dynasty, the era when it was most culturally diverse, in the movie so perfectly that it made the scene more beautiful.
The Power of CG technology
At this event, Korea Creative Content Agency preliaised movie professionals in Asia with Chinese movie-makers and directors participating in 'Hong Kong Film Market' as the central figure and arranged a business meeting with domestic CG enterprises. Through this meeting, domestic CG enterprises already obtained good results such as a consultation of CG production regarding director Seo Geuk's next movie, and obtaining contracts in CG production of 'Convert Magic', the next movie of director Wilson Yip who directed IP Man, Flash Point and etc.
Also, it became an opportunity to let the world know the power of technology that domestic enterprises have due to a high interest of Western movie professionals such as movie-makers from all over the world including Australia requesting a meeting in advance.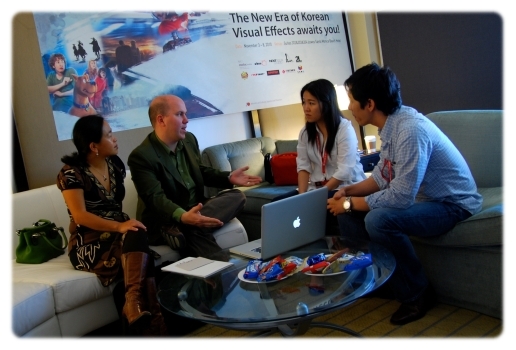 <Participating in AFM (American Film Market), there was an opportunity for domestic CG production companies to meet with Hollywood movie professionals> (Photo: Heraldbiz)
Kim Jiin-gyu, the director of the headquarters of Korea Creative Content Agency, who held this event said that Korea Creative Content Agency obtained good results of about two hundred million dollars by winning a contract of 'The Last Knight of Ako', a Hollywood cinematic masterpiece by taking part in AFM 2010" and "the Agency will arrange a variety of set of measures to provide support to practically help domestic companies making inroads into not only Hollywood but also Chinese market."
Frankie Cheung, the supervisor of VFX who participated in lots of works of Zhou Xingchi, a director and actor said that the working experience with a Korean company was very impressive and that Korea has the best technology in Asia and the talents people have are excellent.
Korea is standing out in global market with excellent technical skills and original ideas. It seems like it won't take long for world-wide movie fans to enjoy better movies with a high level of CG production technology, which Korea has.